Leadership Consulting
Management affects business.
Performing on all management areas will make your business thrive. When your managers perform, your business performs.
We believe business and leadership development are two sides of the same coin. The most benefiting development of leaders are "in action" solving actual challenges in their business and creating results at their organization.
By combining business development and leadership development in action, the development of both areas will accelerate and strengthen.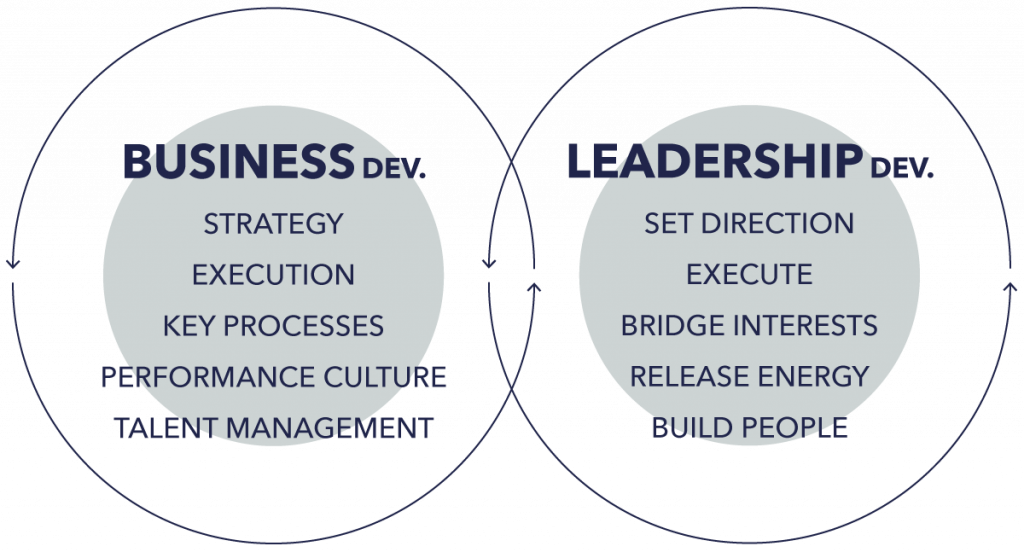 Our Leadership Consulting services support companies achieve goals they couldn't earlier and leaders achieving success they haven't achieved before. Our clients experience a significantly higher Return-on-Investment (ROI).
If 5-12 months are considered a short period of time when wanting to grow  business, streamline processes and achieve better results, your organization will experience results short-termly.
We won't overload the calendars of the leaders, since they develop and increase their performance while spending time on what is the most important – creating business results.
The benefit is a healthier organization from the inside, with a bit of help from the outside.
Services
Our Leadership Consulting services have the same base – combining Business Development with Leadership Development "in action".
You can't find the right solution without the right starting point.
It is important to understand the current business situation, the current challenges and the future business strategy to ensure a high quality of consulting. We analyze the current and future roles of key employees and how they correspond to the business strategy.
The tasks vary in scope from large ones involving important parts of business and multiple management teams to individual and intensive focuses.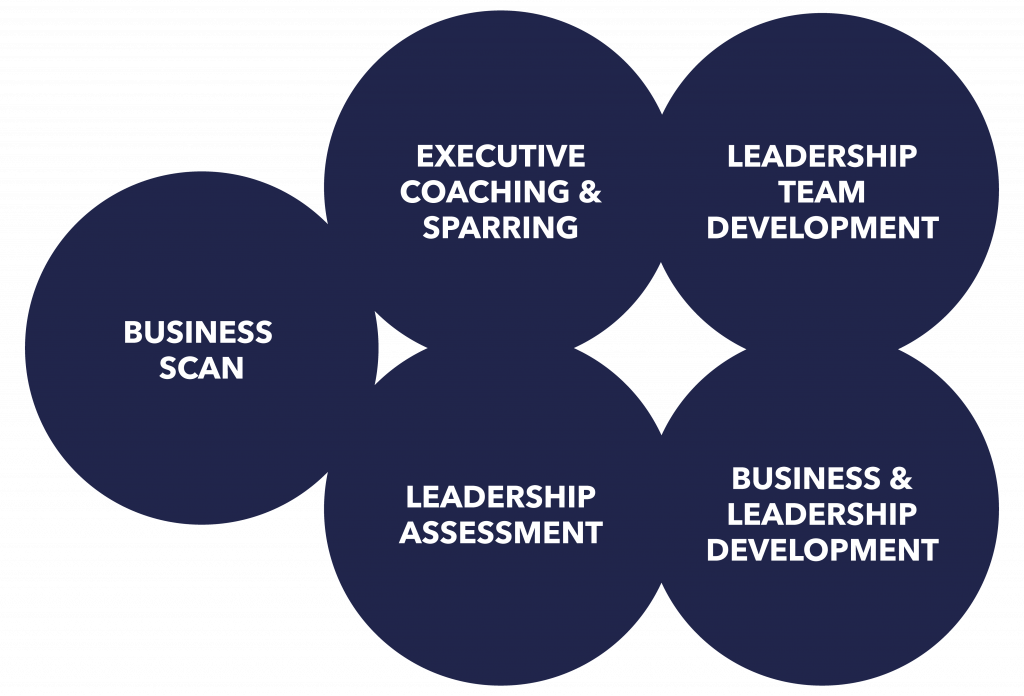 Business Scan
We do a complete "to-the-point" Business Scan of the business strategy, the business processes, leadership and organizational culture. Where are we at? Where are we going? How do we plan to get there? Which critical challenges are ahead of us?
A Business Scan varies in scope and is often an integrated service in a development process. If wanted, it can end with specific recommendations for the organization to process and work with.
In all regards, we exploit our experiences to give our clients professional sparring and strategic reflections. The goal is to make complex challenges simple and operational.
Executive Coaching & Sparring
We operate as business oriented counsellors and sparring partners to boards, managements and leader teams in many different contexts.
We use our experiences and insights from working several years with multiple organizations. We bring value and a different perspective to the current challenges our clients face.
Executive Coaching is a tool for change management, management development and personal development for better results. Executive Coaching gives business value as well as individual value.
Sparring meetings can both be prescheduled meetings or on an ongoing basis, which lots of our clients prefer. The sparring meetings can also be integrated with the other services we offer.
We tailor coaching processes to inspire and support managers to achieve the goals they value and target. We challenge the presumptions, thinking patterns and working habits, that could potentially harm the development.
We often combine Coaching & Sparring to make a greater payoff for managers and organizations.
Leadership Assessment
Leadership Assessment is a professional assessment of performances and potentials at managers and management teams to significantly progress the decision-making of development and composition.
Leadership Assessment brings clarity to the current performance, the current strengths, development potentials and motivation. The key activities are tests (personality and achievement tests), in-depth interviews and recommendations.
Leadership Team Assessment
Leadership Team Assessment is about increasing performances in one or multiple management teams in essential parts of business. The goal is to increase the management team performance to reach ambitious business goals.
Leadership Team Assessment is centralized of 4 key activities: Workshop, management team tests (achievement tests, personality tests and team tests), mangement team sparring – and if necessary – individual management sparring. Leadership Development is about increasing the accumulated ability of performance in the management teams and to create a common mindset and commitment of developing the team to increase team performance.
Leadership Assessment is often integrated directly in a Leadership Team Development process to make a mutual foundation full of perspectives for the process starting.
Business & Leadership Development
We develop and grow business and management teams in a combined Business & Leadership Development.
The decisive turning point could be strategic development and execution, organizational development, proces development, cultural development or change management. Goals are consequences of business central ambitions and challenges.
The managerial development goals and the management team development goals are directly connected with the overall business goals.
Executives and management teams need to grow during the proces to reach the new, ambitious business goals.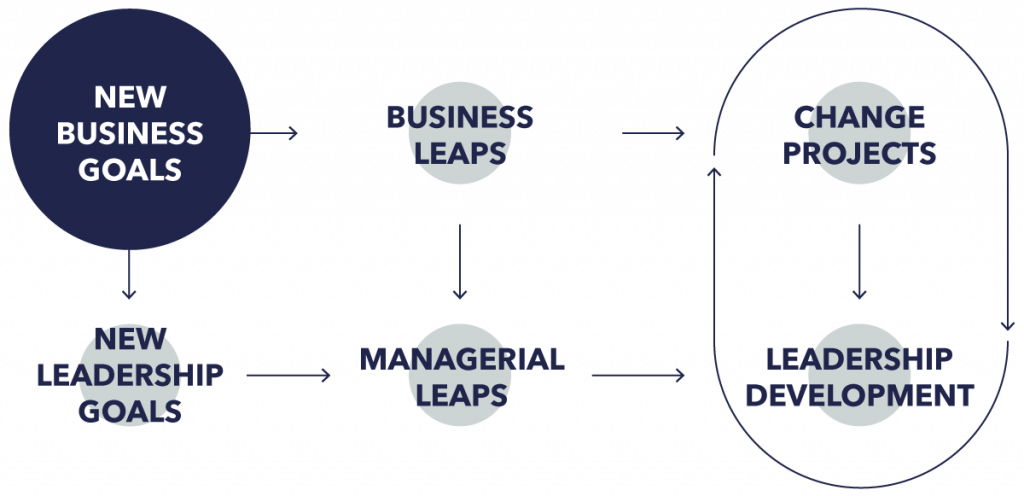 In the inital phase a Business Scan is conducted, a to-the-point analysis of business, strategy, business processes, management, organization and culture. The purpose of the analysis is to understand before we start contributing.
In a close collaboration with our clients, we define business projects to be implemented during the proces. The management is responsible for one or more of the defined projects. The project execution has begun.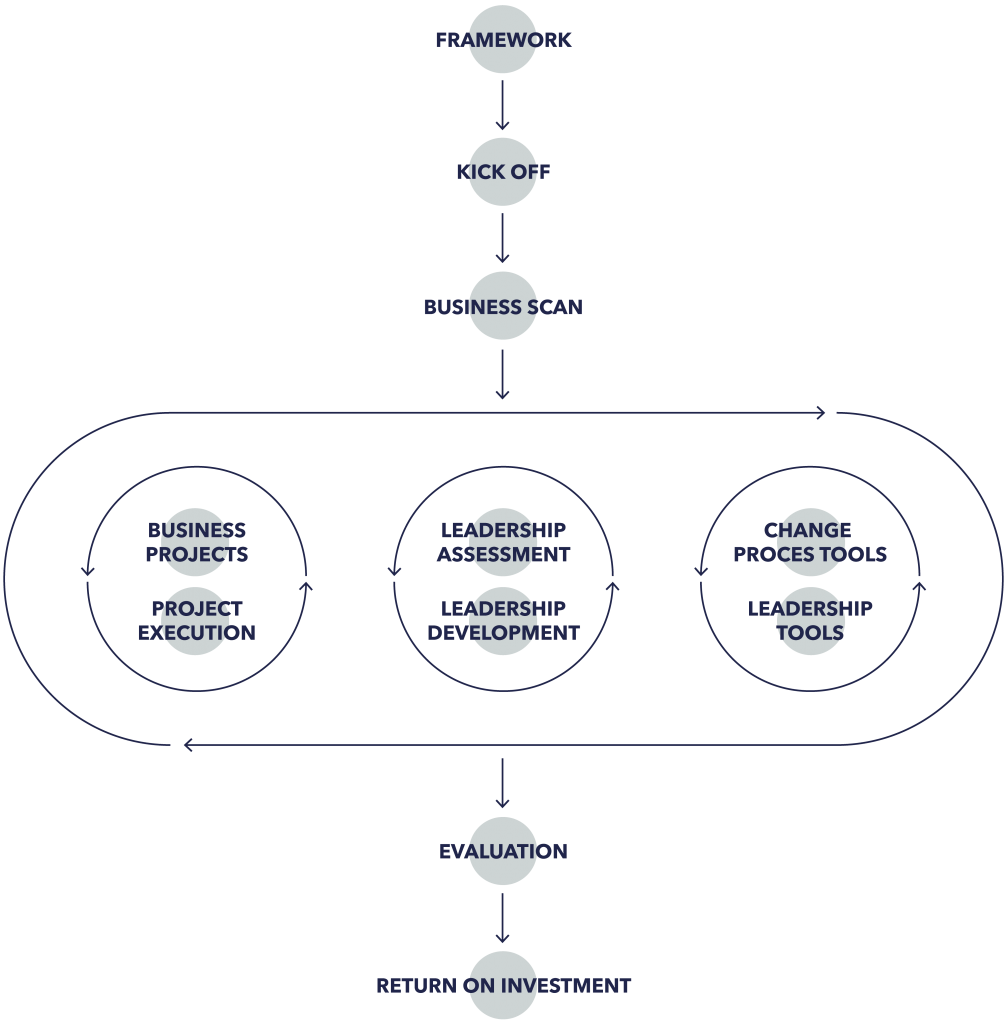 Next, the personal development goals of the managers are defined and the performance goals of the management teams. We analyze which areas are important to focus at to increase performance to support the business projects – individually and as a team. Leadership Development starts.
The proces and management tools to support Business Development are defined and the implementation is kickstarted.
Business projects are executed, Leadership Development is in progress and all relevant mangement tools are implemented. Workshops, team sparring and individual sparring are switched between to support goals along with ongoing steering group meetings.